Search Job Openings
Search our positions by selecting a location below. To see all openings sorted by location select "Any". Each job description includes a link for applying and submitting your resume to us online.

Find Your Career – Your Success
We frequently launch new and innovative lines of business. If you are looking for a rewarding career and enjoy raising your hand to share your ideas within a flexible and professional environment, we could use you on our team.
READ MORE
Whether you are a student, a recent graduate, a young professional or a seasoned mortgage/financial professional, we can offer you the opportunity to shine. This is a very exciting time in our business; begin your career journey with us by reviewing our talent acquisition process.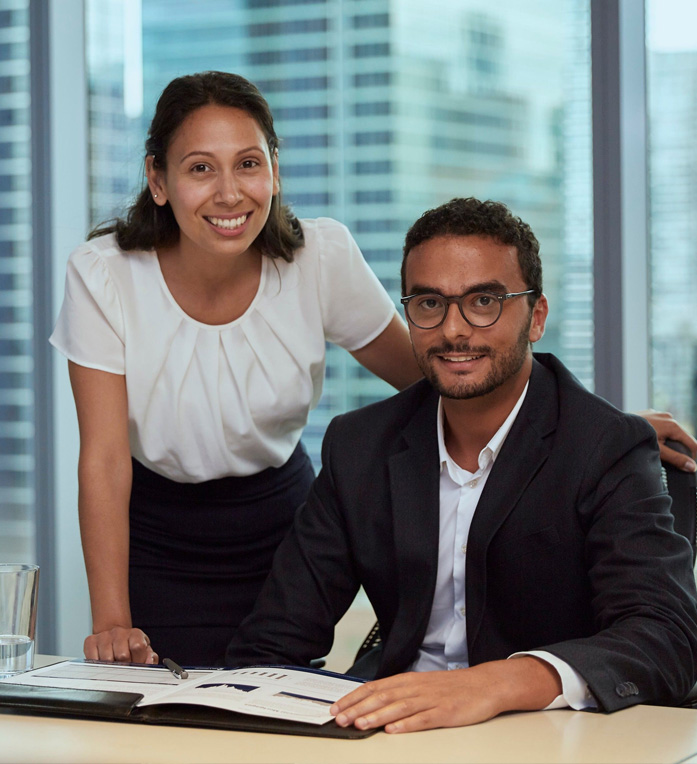 Building
Our Team
We take great care to ensure that each new team member will not only enjoy our corporate culture, but add to it as well. Our talent acquisition process is designed to really get to know each candidate, and allow them the opportunity to get to know us so we can make sure that it is a great fit on both sides.
Below is the road most successful applicants can expect to travel:
01
Apply for the position
Review our current job postings to determine the right opportunity for you. To submit your application, click the "Apply" button on the position of interest and follow the instructions. Although we greatly appreciate each candidate's interest, due to the high volume of applications we receive for each of our positions, we will only contact candidates who have been shortlisted for further consideration. All resumes will be kept on file for a period of 6 months from the date they were received.
---
02
Phone Interview
If your application meets the job requirements, a member of our HR team will reach out to coordinate a mutually convenient time to speak over the phone. At this point, we are looking to learn more about you, what you're looking for in your next opportunity, and how your past experience aligns with the role at CMLS. This is a two-way discussion; our HR Advisor will be happy to answer any questions you may have about our company and culture at this point as well.
---
03
In-person Interview
Select candidates will then be invited to our office for an in-person interview. These formal conversations typically last 45-60 minutes, and may include up to 3 interviewers comprised of HR team members and senior management. Many of our questions are of a behavioural and situational nature, and we encourage candidates to come prepared to discuss their experience in great detail and provide specific examples to support their answers.
---
04
Final Interview & Assessment
Depending on the position that you have applied for, there may be an additional step involved in our process which may consist of a second-round interview with a senior leader, or an assessment which provides us with further feedback and insight into your core competencies, written communication and/or presentation skills, or technical abilities.
---
05
Offer and Acceptance
Congratulations!
We have determined that you will be an asset to our team and we look forward to you accepting our offer to join our team and have a positive impact on our business. Please note that all offers of employment are conditional upon satisfactory background check and reference check.
CMLS will accommodate disabilities during the selection process.
In the event that you are not our successful candidate at this time, we will add you to our talent pool for future consideration.
We greatly appreciate the time candidates spend participating in our recruitment process.
Testimonials
Commercial
"CMLS provides a supportive environment in which professional development is encouraged…"
Adam Dean
Residential
"There are so many things I could say about why I enjoy working here but one of the most important is that: Management has attained the perfect balance of providing guidance and positive direction, while still encouraging us to problem solve on an individual level and take ownership of our work. I don't feel micromanaged working here, but I do feel like a great support system is in place if required."
Samantha Feldman
Residential
"The corporate culture at CMLS is very professional and at the same time encourages people to have fun.  Management team supports personal development and offers many opportunities to grow within the company.  I love CMLS."
Ben Ho
---
Diversity Statement
Diversity is an integral part of our culture and beliefs system. It is a value that we express throughout all levels of our organization. We proudly support the goals of the Accessibility for Ontarians with Disabilities Act, 2005 (AODA).
For more information, please click here.